By the end of winter, I can get really sick of the same old soup. But THIS RECIPE, is FAR from your average soup!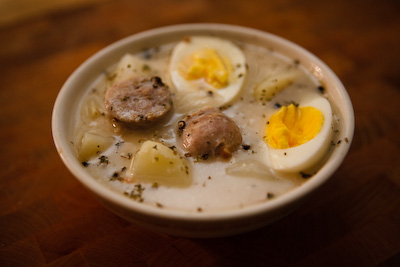 photos courtesy of Peter Pawinski
Zurek, also known as white borscht, is a traditional Polish soup made with a base of fermented rye flour, so its got an awesome zing to it.  It's also super fun to make because it involves creating a bubbling brew of fermented goo!  Fermented foods are seriously good for boosting your immune system, intestinal health as well as your general well-being.  I was excited when my Mom passed me this zurek recipe via the Chicago based,  LTHForum.  I knew I had to pass it on.  Although I usually always do my own photography, Peter Pawinski's photos from his LTH post are too good to pass up.  Thanks Peter for letting me use them.  Ok, on the recipe!
Zurek: Fermented Soup
recipe via the LTH Forum with a few of my own alterations
2 cups of zakwas (fermented rye flour)
1 lb of white sausage – chopped (or just use polska kielbasa)
1/2 lb of bacon, chopped
1 onion – minced
1/2 cup of sour cream
4-5 boiled potatoes, cut in cubes
hard boiled eggs, cut in half
1 Tbsp of marjoram
salt/pepper to taste
Zakwas
1/2 cup oat flakes
1 cup rye flour
2 garlic cloves, sliced thinly
rye bread crusts -or- 1 Tbs sour dough starter
3-4 cups water, boiled and cooled to room temp (to evaporate the chlorine)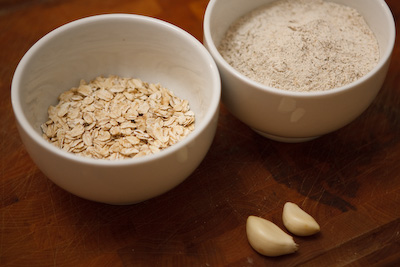 Żurek, also known as biały barszcz (white borsht), is a traditional Polish soup whose signature tang comes from a base made from rye flour and water that's been left to ferment in a warm place over several days. This base is called zakwas in Polish, and basically is just a very watery sourdough starter. You can skip the oats and use just rye flour, but since I usually have oats around the house, I made it this way.  Traditionally, zakwas can also be made using whole wheat flour, or wheat bran instead of rye.
Mix all of the zakwas ingredients into a jar or stoneware crock with your water. Add the crusts or sour dough starter to help the fermentation along.  Place your jar in a warm, draft-free location, 70-80F ideally.   In about 24-36 hours after starting, you should notice some bubbling in your starter, as well as a sweet-sour smell. If you know the scent of lactic bacteria (as in naturally fermented sauerkraut or pickles) that's what you're looking for.  The zakwas should be ready to use in 3-6 days, depending on what level of sourness you desire.  If you're using the crust of rye bread, remove after two or three days to prevent mold formation.
Once your zakwas is fermented, you can make your soup.  In a soup pot, saute chopped onion in the fat of your choice, butter, oil, lard, what have you, until clear. Prick the white sausage all over with a knife or fork. When the onions are translucent, add sausage and water to cover, about 4-5 cups or so.
Bring to boil, reduce to simmer, and cook for 30-40 minutes over low heat. In another pot, hard boil your eggs, and boil up some peeled potatoes that have been cut into quarters or diced into cubes.
Remove the sausage, cut into 1/2 – 1 inch slices. Return to pot.  Spoon out 2 cups of zakwas into the pot. You may need to strain it, if you used oats. The rye flour from the zakwas will act as the thickener. Add about one teaspoon marjoram, and salt and pepper to taste. Cook for about 5-10 minutes.  If the soup hasn't thickened enough you can  add 1/2 cup sour cream mixed with 1 Tbs of flour.  If your soup is thick enough already, just add sour cream alone.   Bring to boil and cook until the raw flour flavor has cooked out, about 5-10 minutes.
To serve, arrange boiled potatoes and hard-boiled egg halves in a bowl. Ladle the żurek over, making sure you get some sausage pieces in the bowl.
For more history on this soup and other variations, check out the original recipe on the LTHForum.